S2E/S2T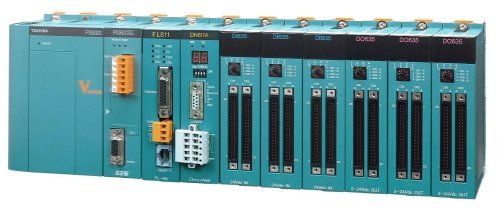 T-Series Compatible Controllers [S2T/S2E]
S2T and S2E are the controllers which are software-compatible with PROSEC T-series PLCs, and have advanced V-series hardware. The S2T/S2E are suited for wide-range of descrete control applications.
S2T
T-series Compatible and Integrated Functionality
Program Capacity: 32K/64K steps (2 CPU types)
Execution Speed: 90ns (Contact instruction)
Max. I/O Points: 2048 points (64-point DIO x 32 modules)
Multi CPU configuration with the Computer module C2 is possible
(S2T supports V-series Station-bus)
S2E
High-performance and Economical PLC
Program Capacity: 32K steps
Execution Speed: 110ns (Contact instruction)
Max. I/O Points: 2048 points (64-point DIO x 32 modules)
Supports V-series model 2000 I/O modules (G2I/O)
(S2E does not support V-series Station-bus)
Program Compatible with T-series
For S2T/S2E programming, PROSEC T-series Programming Tool (T-PDS) is used. The existing T-series software can be used for S2T/S2E.
High-speed Execution
Parallel execution of a 32-bit management processor and a special designed Language processor achieves high-speed execution of program instructions and minimizing the scan over-head time.
S2T/S2E can be used for wide-range of applications from high-speed machine control to complex data processing.
RS-485 Serial Port Built-in
S2T/S2E has RS-485 port as standard feature. This port can be used for conection with HMI/SCADA using T-series computer link protocol. This port can also be used to connect with various ASCII communication devices, such as bar-code reader, temperature controller, etc.
Integrated Functionality (S2T only)
S2T supports V-series 32-bit processor bus (station bus). Using this station bus, high-speed data exchange with other station bus type modules is possible.
Station bus type module: Computer module (C2), Ethernet module (EN6xx), TOSLINE-S20 (SN625/626/627)
Large Data Memory (S2T only) (*1)
Enhanced type S2T CPU (PU672T) has 1M byte of expanded data memory. Because this expanded memory is backuped by battery, it can be used for process data logging.