Braided Sleeving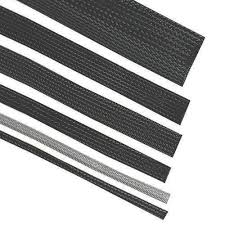 The initial diameter of the sleeve will expand by 100%.
Braided sleeving is lightweight self-fitting, flexible sleeving that provides tough protection for
bundles, wires, cables and flexible pipe systems. Ideal for use in automotive, control panel
installation, rail traction and rolling stock, aerospace, ships and data
telecommunications. Suitable for use with cables up to a maximum diameter of 140mm.
The push back expansion effect of this product enables a few sizes to cover a range of applications.
Braided sleeving readily expands, which makes installation efficient even over large diameter
transition and around bends. Low smoke, low toxicity and halogen-free. Available in black or grey
as standard.
COLOUR OPTIONS: Black or Grey.
SPECIFICATION:
MATERIAL: Heat Stabilised Polyester
MONOFILAMENT: Polyester Size 0.22mm.
MELTING POINT: +250˚C
LIMITING OXYGEN INDEX: 34%
CONTINUOUS TEMPERATURE: -50˚C to +150˚C
MAXIMUM WORKING TEMPERATURE: +250˚C
FLAME RESISTANCE: Passes Flame Requirement of CEI 332-1,FMVSS 302(Type A)12 According to NF F 16-101
FUMES TOXICITY/OPACITY: Passes CEI 754-1, CE 754/2, Low Smoke, NFC20452 (Polymer)
CHEMICAL RESISTANCE: Unaffected by most chemicals.