G120X IP20 Fan & Pump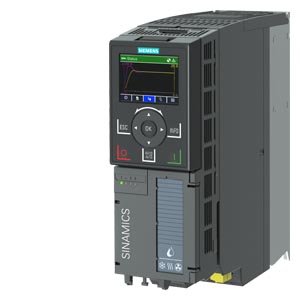 Sinamics G120X drive, designed for use in pump, fan and compressor applications in industries such as water/wastewater, HVAC/R, irrigation/agriculture and in industrial environments. Sinamics G120X has a power range of 1–700 hp (0.75–630 kW) and can operate in a temperature range from -4 to +140 ° F (-20 to +60 ° C) with any standard motor, including synchronous reluctance motors (SRM). It has an integral DC choke for harmonics and EMC performance.
The design of the G120X can be integrated in to MCC solutions (including plug-in buckets). Even without an additional output reactor, Sinamics G120X drives enable motor cable lengths of up to 492 ft. (150 m) with category C2 or C3 filter and up to 1476 ft. (450 m) without filter and have hardware-based SIL3-certified safety functions built-in.
The G120X has Class 3C3 coating which is suitable for harsh environments where the presence of corrosive gases such as Hydrogen Sulfide (H 2S) is present. A C2 or C1 EMC category ensures the drive can be used in any kind of industrial and public networks.
Sinamics G120X is fit for digitalization and can be linked to Mindsphere by using Sinamics Connect 300 and the Mindsphere app Analyze MyDrives.