Fuse switches (20 -1250A)
Fuse switches (20 -1250A)
3 Pole
3 Pole + Switched Neutral
3 Pole + Solid Neutral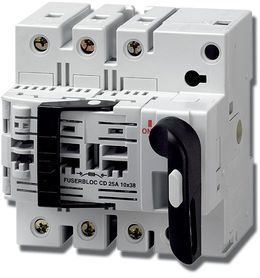 FUSERBLOC are manually operated multipolar fuse combination switches. They make and break on load and provide safety isolation and protection against overcurrent for any low voltage electrical circuit.
Improved safety
• Complete isolation of the fuse with double breaking per pole (top and bottom of fuse).
• Positive break indication.
• IP2X protection with terminal shrouds front panel.
High breaking capacity
Protection against overloads and shortcircuits thanks to high breaking capacity fuses (100 kA rms).
Specific functionalities for simplified use
• TEST position for testing control circuits without power using U-type auxiliary contacts. In TEST position, the enclosure door can be opened.
• Mechanical or electronic fuse melting detection system (see DDMM or FMD).